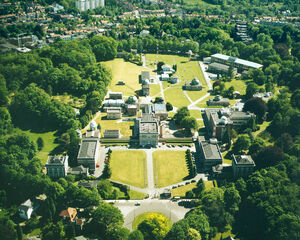 Second Sunspot Workshop, 21-25 May 2012 SIDC, Royal Observatory of Belgium, Brussels
Dear Colleagues, Following are: (1) the working agenda (including member assignments) for the workshop; (2) information on registration, travel, lodging, and social activities, (3) a list of invited participants, and (4) the presentations given.
In regard to the schedule, we have set aside blocks of time for the various topics to be discussed and have designated a Topic Leader to organize the session. If you feel you were miss-assigned or would like to be involved with additional topics, please contact me. Feel free to make any suggestions on the schedule. The workshop will be held from Monday morning to Friday noon, with an organized tour of Brussels planned for Wednesday morning and Wednesday afternoon left free for private exploration or informal working group meetings. Sessions will take place in the "Meridian room" within the Royal Observatory site. Lunches will also be provided on the site.
The central goal of the SSN Workshops is to provide the solar community with a single vetted SSN time series, covering the last ~400 years. Basically we need to reconcile the International & Group SSNs, which differ significantly before ~1880, and to pinpoint the uncertainties and possible flaws in those historical reference series. This will take a lot of work and we look forward to collaborating with each of you. The first workshop in this series was held in Sunspot, New Mexico in September. We are considering a special Topical Issue of Solar Physics for the eventual joint publication of the SSN series and the accompanying historical, procedural, and scientific papers. Topical leaders have the responsibility to coordinate the effort in their area and to schedule oral contributions at the workshop within the designated block of time. Please contact me if you need more (or less) time for your topic and we can make adjustments. Participants who cannot join us in Brussels this time can of course continue to contribute to the joint work. Where possible, attending participants are encouraged to present results forwarded to them by those who cannot come among their close science collaborators.
The detailed schedule of the meeting will be updated and the final agenda will be included in a final circular next May.
Sincerely yours, Frédéric, Ed & Leif